Hello everyone!
The Award
Received 3 honorable mentions, and placed 1st for the People : Self-Portrait pro category. Yay! Will have my winning entry printed in the
2009 IPA Annual book
. That's so exciting.
You can view my winning entry
HERE
. Just scroll down to the People : Self-Portrait category, my entry is the one entitled "Suhana".
The Pregnancy
Today I am 19 weeks pregnant with a baby boy!! Here is the ultrasound scan at 15 weeks & 5 days. Hehe. The first trimester (1st 3 months) I had really bad morning sickness, was so dehydrated because I couldn't stop puking, I ended up in the hospital for about 4 days. Glad it's all over that part. And now, since two days ago he has been kicking me non stop. Can't wait to hold him in my arms!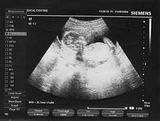 Just created a pregnancy blog,
theexcitedmom.blogspot.com
. For more detailed updates!
Other stuff
So my studio is finally done. Business has been a bit slow since the pregnancy, but now that the whole puking phase is over, I can start getting back in action. Unfortuntely though, my 350d is dead, so I'm thinking of getting a new camera, I have my eye on the Canon 5dmkII. But I gots no moneeeeehhhh!!
How has everyone been? It's been pretty damn long since I've done any updates or uploaded anything here eh?
Much Love,
Anna